There are so many different types of tiles on the market, and each of them have their own benefits, drawbacks and ideal uses. So, if you thought you'd finally wrapped your head around all the different tile types – from ceramic material to subway design – think again!
Rectified tiles are another type of tile you should know; even if you haven't heard the term 'rectified' before, it's likely you're still familiar with how they look. As tile experts, we're here to tell you everything you need to know about rectified floor tiles and wall tiles.
What are rectified tiles?
In simple terms, rectified tiles are porcelain or ceramic tiles that are identical to one another as a result of a mechanical finish
These tiles are mechanically ground down and polished to be uniform in length and width. – giving you a truly square tile with sharp, clean edges.
How are rectified tiles made?
While modern manufacturing processes have certainly improved the way tiles are made, the current processes still make it difficult to create two porcelain or ceramic tiles that are completely identical.
Both rectified floor tiles and wall tiles and non-rectified tiles are made in a similar way, with both types made by pressing a material, such as ceramic or porcelain, into a mould, which is then fired in a kiln.
During the firing process, tile sizes and dimensions can become varied – much like when you bake cookies and they all seem to expand or shrink to different sizes and dimensions. It's worth noting here that rectified tiles tend to be made bigger before being fired to account for the shrinking or expanding of the tiles in the kiln.
Once the tiles come out of the kiln, additional processing is completed to precisely finish off each tile, giving them the exact same dimensions or 'rectifying' them.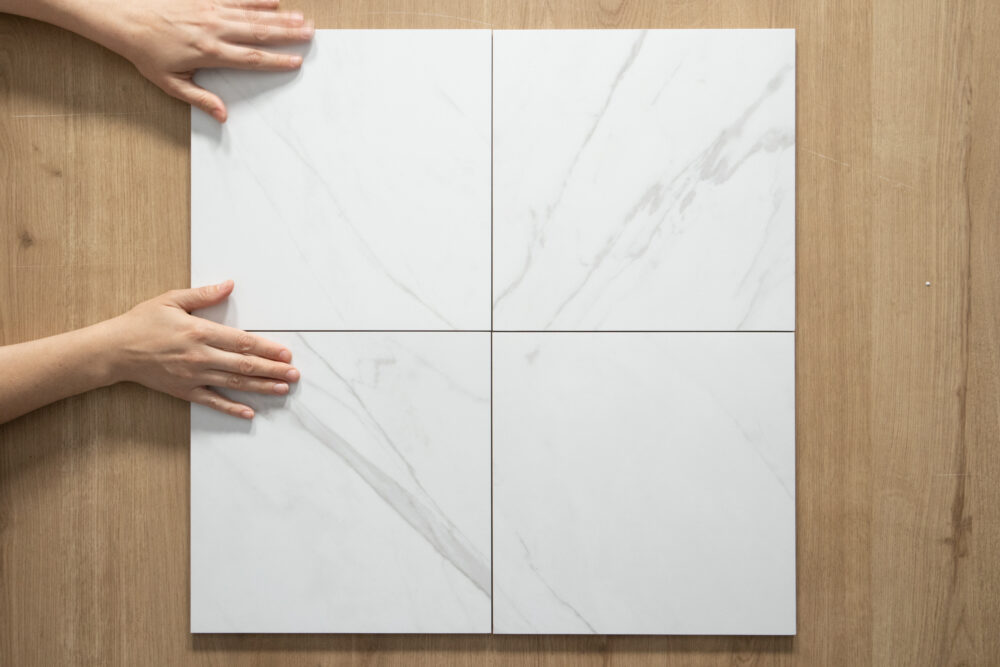 Are rectified floor tiles expensive?
Rectified floor tiles and wall tiles go through additional manufacturing processes, which results in a slightly more expensive price than non-rectified tiles.
What are the benefits of rectified tiles?
While the differences between rectified and non-rectified tiles are subtle, they make a considerable difference to the overall aesthetics of a room.
MORE SEAMLESS LOOK
The main benefit of rectified tiles is that they can be placed closer together, reducing the amount of grout required between tiles. The gap between the tiles may be between 1.5mm– 3mm, which gives a clean, crisp look and creates an almost seamless appearance.
If you're wanting to use large format tiles in your space, rectified floor tiles can work particularly well, as the minimal grout required can make the floor, or even wall, look like it is one large tiled space.
Hot Tiling Tip: If you have decided you want a seamless look with your tiles, you need to ensure the tile installer you book is prepared to do a thin grout line – usually around 1.5mm wide. Discuss this with the contractor before they undertake any work to make sure it's something they are comfortable and skilled to do.
HYGIENE AND CLEANING
Rectified floor tiles and wall tiles are also easier more hygienic and easier to clean, as there is less grout for bacteria and mould to harbour in and the surface is more seamless.
Disadvantages of rectified floor tiles?
The benefits of rectified floor tiles far outweigh the cons, but it is worthwhile noting the small disadvantages of this type of tile.
EDGE OF TILES CAN CHIP
One downfall of rectified tiles is that they are more likely to chip, particularly on the outer edges of your flooring where the tiles finish. This is because the sharp edges aren't as protected as the would be on a non-rectified tile.
MORE DIFFICULT TO LAY TILES
There may be additional work required to ensure your rectified tiles are laid correctly. Depending on the size of the grout lines and the location you want to lay your tiles, substrate or special bedding may be required to ensure they sit correctly.
How do they compare against non-rectified tiles?
Non-rectified tiles generally come in the same colours, shapes and designs as rectified tiles, but with an enticing cheaper price.
This might seem like a great saving but using rectified wall tiles and floor tiles over non-rectified tiles can drastically improve the overall aesthetics of your space.
When using non-rectified tiles, larger grout lines are required to make the tiles look more uniform, which in turn takes away from the seamless, clean appearance of your tiles.
If you're interested in using contrasting grout colours to make your tiles pop, we recommend sticking to non-rectified tiles for your renovation.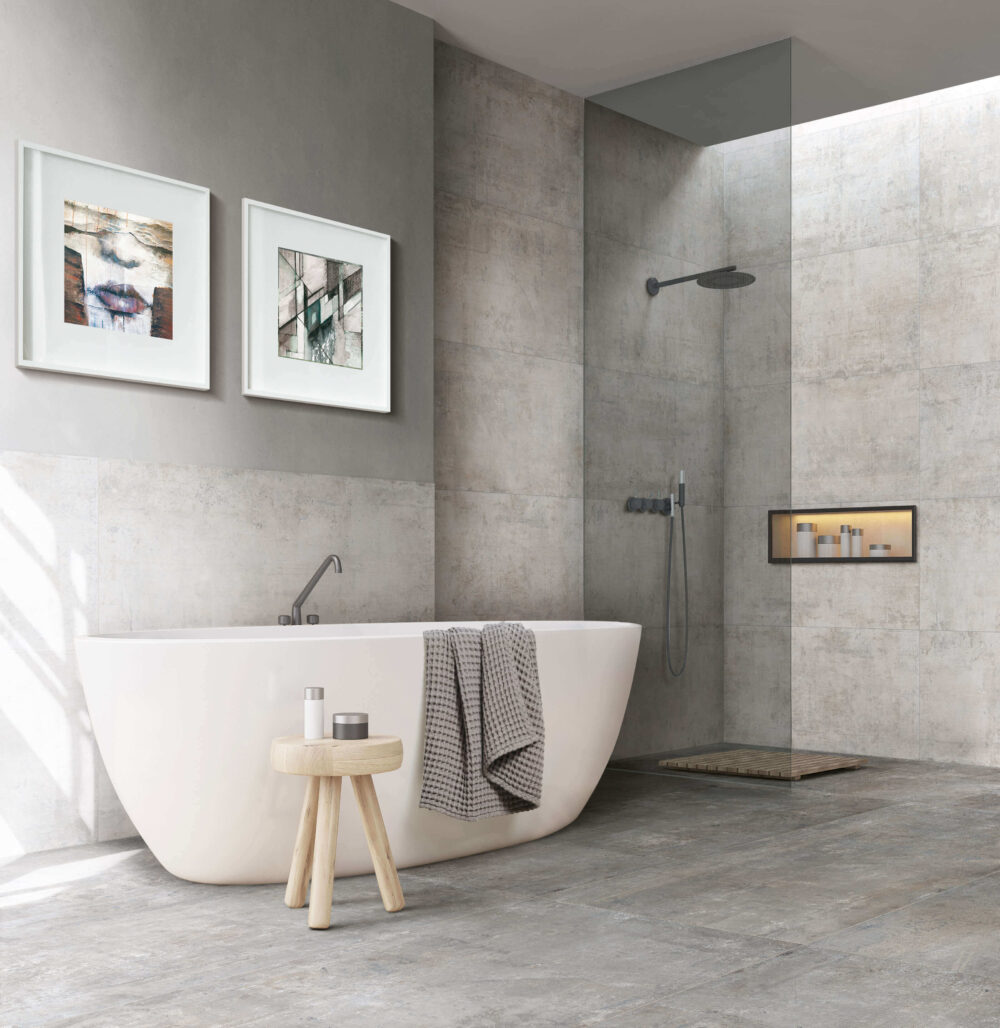 Our Range
Rectified tile inspiration at Myaree Ceramics
At Myaree Ceramics, we have an extensive range of rectified wall and floor tiles to suit your home. Some of our popular rectified tiles include the:
Find rectified tiles at Myaree Ceramics
The sharp, clean finish of rectified tiles produces a more modern, clean and seamless look to complement your modern home, and it's a look we love at Myaree Ceramics.
At Myaree Ceramics, we're passionate about educating you on the wide range of tiles we have available, so that we can help you to make the best decision.

Contact us today to make an appointment with our experienced consultants, who can take you through a comprehensive look at our rectified and non-rectified tile selection.