When it comes to purchasing wall or floor tiles for your home, you're more than likely researching which colours, styles, shapes, sizes, and materials make for a great tile.
But what you may not realise is that while those aspects of tile choice are important, you should also be considering how your chosen tiles will be laid.
The pattern you choose to lay your tiles in plays a considerable role in how a room looks and feels, so our team at Myaree Ceramics have put together a guide to help you understand and choose the best tile pattern for your space.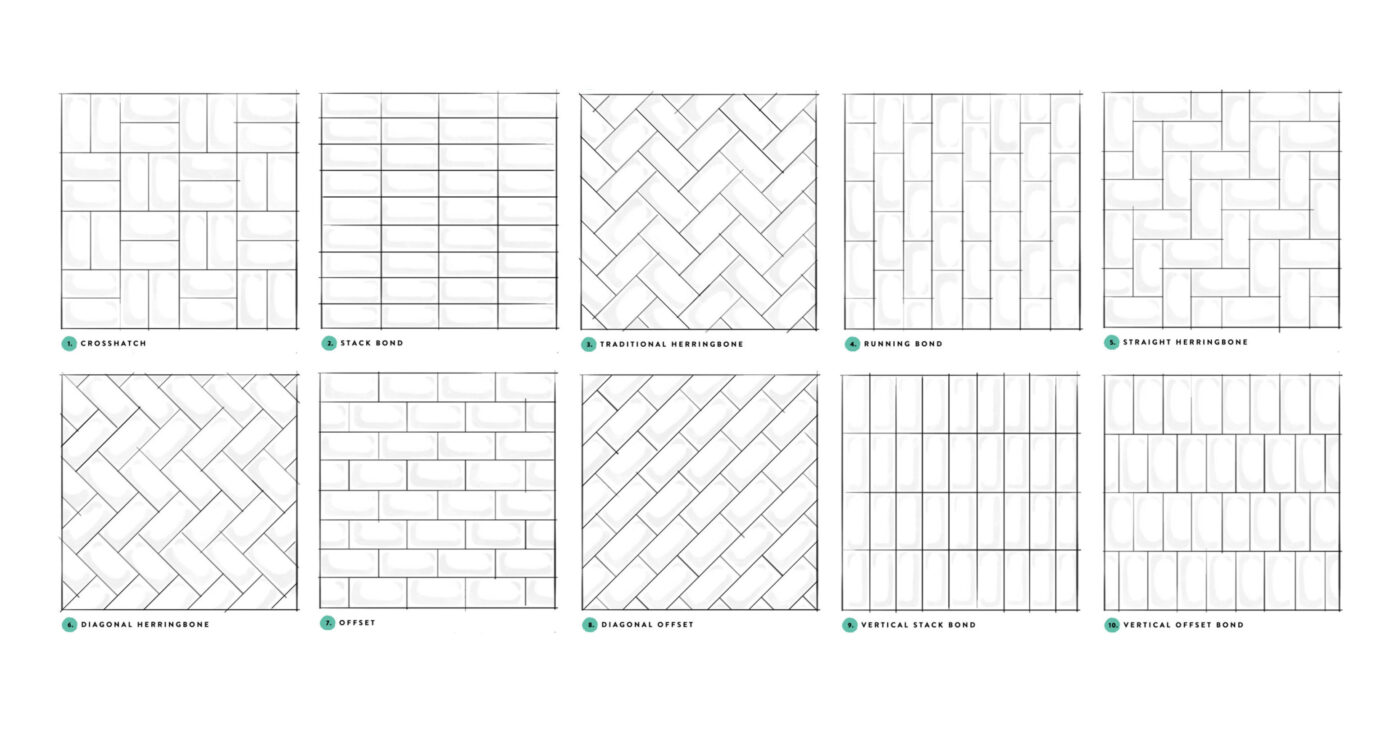 Straight
Traditional stack or stack bond
This tile pattern is the most common pattern you'll find – it is also the easiest pattern to conquer if you're new to DIY tiling.
To achieve this tile pattern, square or rectangular tiles are laid out in neat, straight lines along your flooring or walls, which creates a grid-like outline with the grout. There are no strange offcuts or weird angles to perfect, just straight lines.
Diagonal
Diagonal patterns are created by rotating square tiles on a 45-degree angle.
If you think more visually, imagine we took the above straight tile pattern and then moved it on a 45-degree angle – that's what a diagonal pattern looks like on your floor or wall.
This pattern can elongate a room, making it a great choice for flooring in smaller spaces like bathrooms.
Herringbone
This is one of the most popular patterns that decorators opt for. This elegant pattern forms a "V" shape in the tiles and is often created with rectangular subway tiles.
To perfect a herringbone pattern, you need to lay rectangular wall or floor tiles in a zig-zag pattern.
This particular pattern creates the illusion of additional space by causing the human eye to focus on the wider part of the V shape, which opens up the overall feel of a room and creates a concept of flow.
Basket Weave
Cross Hatch
Over over, under under, over over, under under: when finished, this pattern looks like a woven basket.
The basket weave pattern is a simple layout that utilises two rectangular-shaped tiles laid next to one another. The first pair of tiles is laid horizontally, then the next pair of tiles in the row are laid vertically, then horizontally and so forth.
The layout of this pattern is visually striking when floor tiles have a textured appearance, such as wood look tiles.
Get great floor and wall tiles from Myaree Ceramics
You don't have to choose tiles with artistic patterns on them to create a visually appealing space – there is so much you can do to enhance the look of a room just by changing up the way your wall or floor tiles are laid.
Seeing these basic patterns in a diagram is one thing, but we recommend visiting the Myaree Ceramics showroom in person so that our experienced team can show you the effect of our exquisite tiles in person.
Contact Myaree Ceramics today on 9330 6311 or visit or showroom to view our range of high quality wall tiles and floor tiles to suit your home.