Whether you have kids, pets, a messy partner or a tendency to spill things yourself, there always seems to be some kind of mess on the floor – even after you've just cleaned up.
Much like a carpet or vinyl plank, there are certain methods to use to keep floor tiles clean, depending on the material your tiles are made from.
At Myaree Ceramics, we've developed a comprehensive guide to floor tiles, which will break down the most efficient ways for cleaning the various floor tiles in and around your home.
Indoor Tiles
Let's start with indoor tiles. Indoor tiles require a regular amount of cleaning, thanks to spills in the kitchen, calcium build up on shower floor tiles and general cleaning in those dusty corners and crevices.
Avoid a build-up of dirt and grime on your indoor floor tiles by vacuuming or sweeping the tiles often.
For a more thorough clean, you can create a home-made tile cleaner using methylated spirits and hot water. Use this natural floor cleaner in conjunction with a microfibre mop to effectively clean your floor.
Top Tile Tip: Avoid using any polishes, gritty cleaners or soap-based cleaning products on your tiles, as these products may have an adverse effect. In particular, soap-based cleaning products can create a thin film on your tiles that not only makes them dangerous to walk on, but also attracts more dirt to the surface.
Ceramic & Porcelain Tiles
These tile types are very low-maintenance, which ensures they are durable and resilient to dirt, water, stains and the elements. However, just because the tiles are resilient to stains, it doesn't mean that the protective barrier won't break down over time if it's not cared for.
The key to keeping these floor tiles clean is simply using a broom or vacuum to remove any dirt, debris, grime or mess from the tiles before it has a chance to settle in.
Depending on the type of mess that builds up on your floor tiles, we recommend mixing up a solution of water and white cleaning vinegar for a home-made, children and pet friendly cleaning solution that is also safe for your ceramic and porcelain tiles.
Top Tile Tip: Keep in mind that the grout between your tiles isn't necessarily stain resistant, so it's also important to keep it clean to avoid it discolouring or wearing down over time.
Stone Tiles
With stone floor tiles, it is important to regularly sweep up any dust and dirt that accumulates, rather than running a vacuum over. Some natural stone flooring can be brittle, so even a vacuum may scratch or chip your floor tiles.
It is important not to use regular detergents or cleaners with acidic ingredients on natural stone tiles, as these cleaners can actually damage your natural stone floor tiles. Instead, opt for a simple mix of methylated spirits and water, or talk to your tile supplier about natural stone tile cleaners that they recommend.
Top Tile Tip: Some types of natural stone are quite porous in nature, so in addition to being regularly cleaned, they should also be regularly treated with a floor sealer to avoid stains and water damage.
Resilient Tiles
Resilient tiles refer to flooring more commonly known by vinyl, linoleum and cork, which are ironically less resilient than other flooring types.
Heavy furniture and objects may dent or gouge the surface of these flooring types, so it is important to guard these floors in addition to regularly cleaning them.
Much like other flooring types, resilient flooring should be regularly cleaned with a broom or vacuum cleaner to remove dust, dirt and grime.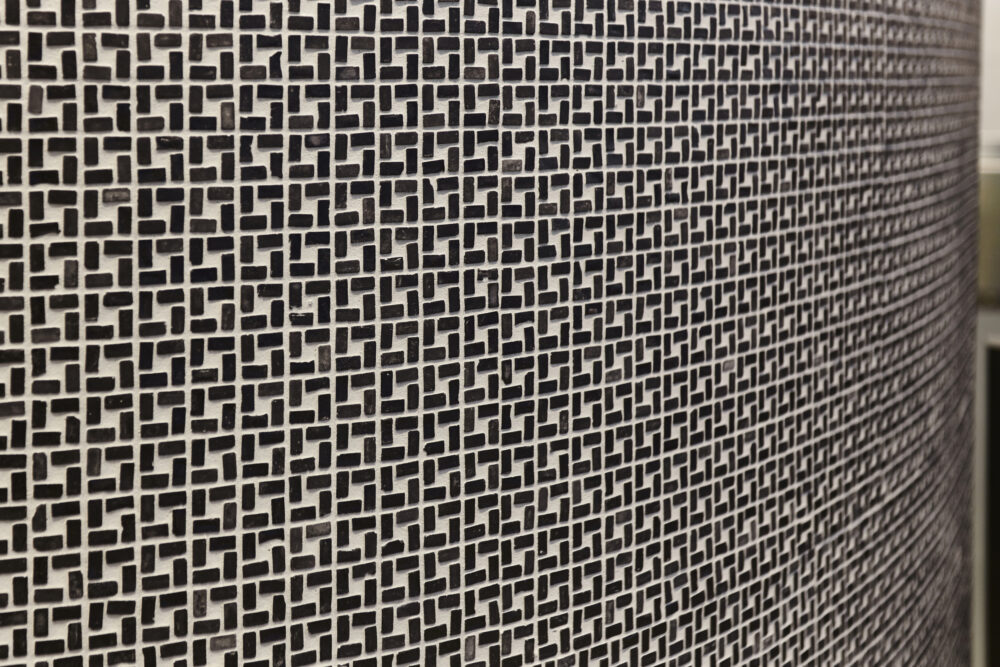 Tile Grout
For many people, cleaning tile grout that has built up calcium, mould and soap scum is one of the most tedious chores. However, it doesn't have to be too difficult a chore if cleaning is regularly undertaken using household products and a bit of elbow grease.
If the staining on your tile grout is mild, you can clean it using warm water and a small nylon brush.
For tougher staining and build up, spray the grout with a half-and-half mixture of warm water and vinegar, then let it sit for 3-5 minutes before giving it a good scrub with a stiff-bristled scrubbing brush.
With these levels of staining, make sure to scrub the stains using a circular motion.
For more stubborn staining, you can spread a paste made from baking soda and water on the grout, then spray it with the half-and-half vinegar solution. Once the paste mixture is no longer foaming, clean the grout with your scrubbing brush and give it a good rinse with clean water.
Outdoor Tiles
Whether it's been a windy and wet winters day with dirt blowing into your patio or you want to give your outdoor area a good clean before you have guests over, we recommend first hosing down the outdoor tiles to loosen any dirt on the surface – it will make your job much easier!
To really remove the dirt from outdoor tiles, you should invest in a broom with strong bristles or a decent scrubbing brush, as the tough bristles will help to lift and remove dirt from the tiles.
If your outdoor floor tiles are harbouring grime, you can use the home-made cleaner mentioned above to break down the grime for easy removal.
Lastly, make sure to hose off the area to remove the last of the dirt and grime on your tiles.
General maintenance tips
We wish there was a magical solution to maintain your floor tiles, but the real key to keeping your floor tiles looking as good as new is just simple, regular light cleaning.
Invest in a soft-bristled broom, microfibre mop and a scrubbing brush for the majority of your cleaning, paying careful attention to the material your flooring is made from.
Exquisite floor tiles at Myaree Ceramics
Once you've invested in some stunning floor tiles from Myaree Ceramics, you will want to be cleaning every day to keep them looking brand new.
At Myaree Ceramics, we not only stock high quality, aesthetically pleasing tiles, we also offer advice to ensure you pick the best flooring type for your home.
So whether you're looking for the best way to care for your existing flooring or you want a professional guide to floor tiles, you can trust Myaree Ceramics.
Why not visit the Myaree Ceramics showroom today to experience our range of floor tiles for yourself.