Timeless Fireplace Tile Ideas
It's often said that home is where the heart is - but frankly, we think it's where the hearth is because nothing quite beats 1) a roaring fire when it's nippy outside, and 2) a terrible pun typically reserved for dads at their peak.
If you're lucky enough to have a fireplace at home, it's typically the focal point of your living room; and the fireplace hearth tiles are what make or break the look.
In terms of what is suitable to tile around a fireplace - i.e. what can stand up to the heat of your fire, the answer is: pretty much anything. Tiles are fired at such high temperatures when they're being produced, they can withstand whatever temperature your domestic fire will get to.
That means the choices are endless, and perhaps a bit overwhelming when you're thinking about tiling a fireplace hearth: so we have narrowed it down to 12 tiles that we think are fail-proof fireplace tile ideas.
1. Encaustic look
A porcelain version of traditional patterned cement tiles, encaustic look tiles are incredibly popular in modern farmhouse and retro homes alike. Depending on the colour palette and pattern you choose, the interlinking patterns of encaustic look tiles can look bright and punchy, soft and coastal or bold and sharp - a true shape shifter of the tile world. At Myaree Ceramics we have an abundance of encaustic look tiles - you can browse them here.
We've also found some inspo pics for you:
Is this Pinterest's hottest fireplace tile idea? Using Picasso Marrakech these tiled fireplaces have created three very different - but equally timeless effects.


2. Moroccan style
The most important decorative tile of the moment, Moroccan style tiles seek to emulate handmade clay Bejmat and Zellige tiles - and those intricate, geometric Moorish patterns ubiquitous to Moroccan architecture. Feast your eyes on our Moroccan style tiles here.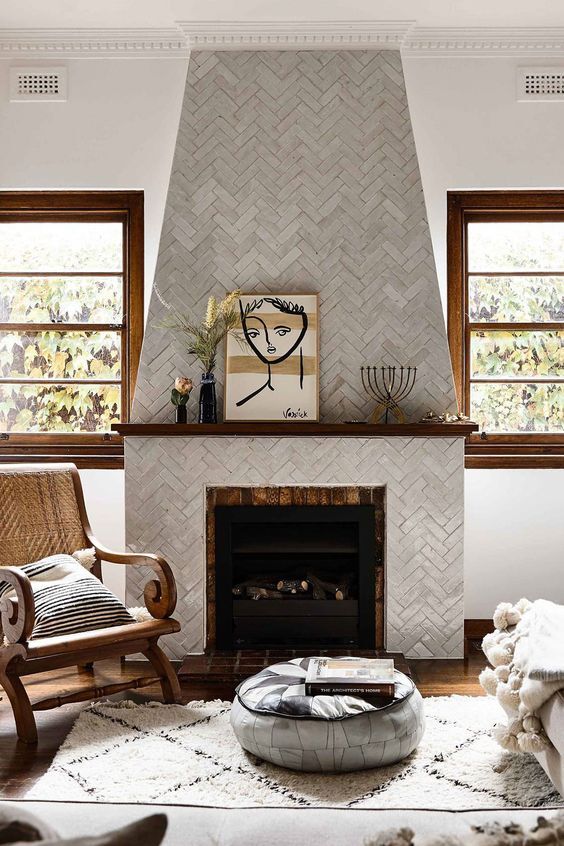 Using a simple white Bejmat laid herringbone, this fireplace makes the most of what could be an imposing chimney in tonal, textural whites. Get the look with Pottery Natural.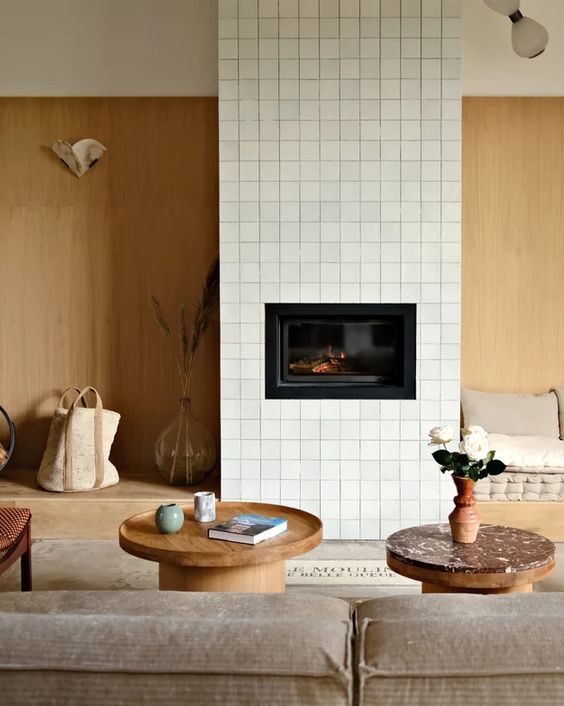 Similar concept but an entirely different execution, this project in the French countryside uses a Zellige look tile to make an absolute meal of a simple column set fireplace. Get the look with Zellige White Gloss.
We are absolutely taken with this outrageously chic living room with a floor to ceiling tiled fireplace. Get the look with our Mar Casino Tarricone.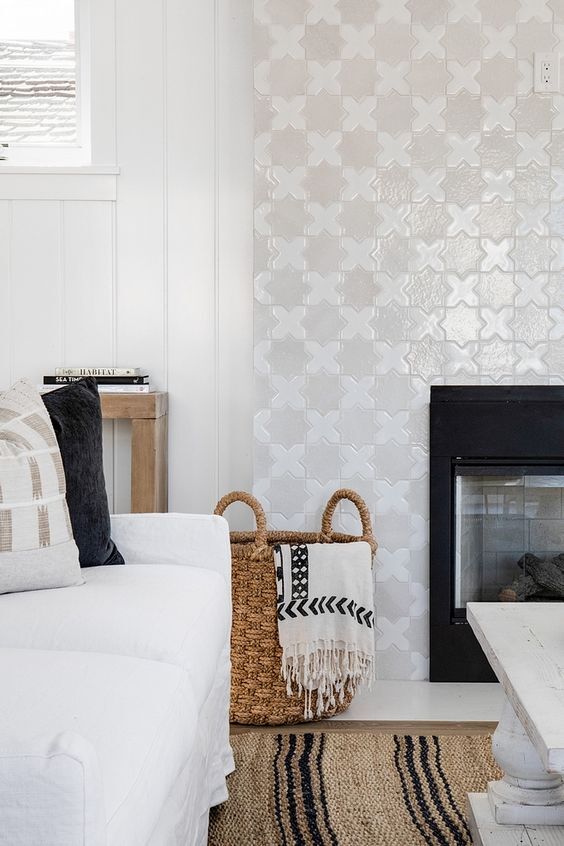 Another staple of Moroccan design, the stars and cross motif is a beautiful way to bring a handcrafted softness to your fireplace hearth. Get the look with Kasbah Star and Kasbah Cross in Bone.
3. Subway tile
Yes, we know. But you're looking for timeless fireplace tile ideas, and it's tough to go past the ever-versatile subway. Available in endless colours, finishes and textures, the humble subway can go from Mid Century Modern to Hamptons and back in an instant. With the ability to create interest with more laying patterns than you can poke a fireplace poker at, subway tiles are the workhorse of tiled fireplaces. Check out our range of subway tiles here.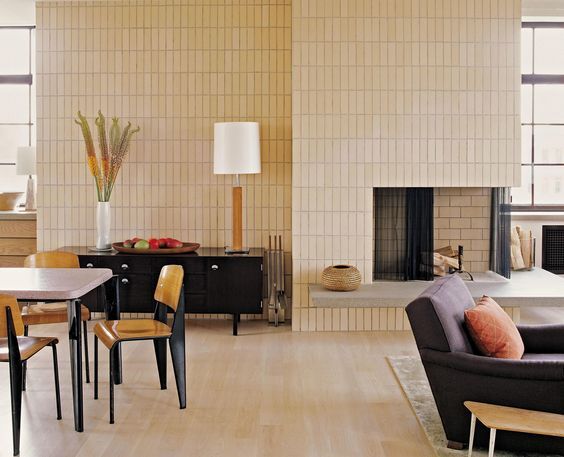 Babe, wake up. The Modernist fireplace of your dreams just dropped. Nothing says "My architect and I just love your Eames" like a brick-clad fireplace. Get the look of this impeccable West-Village loft with our Pietra Cromie Compact Bianco.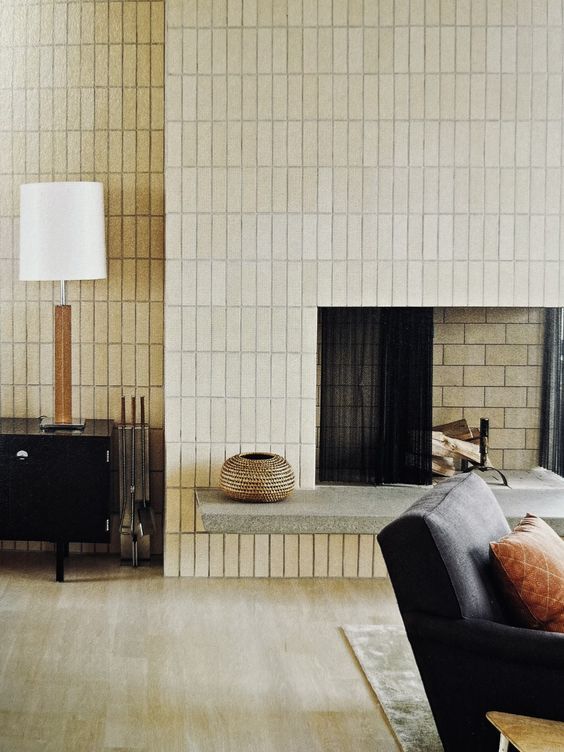 Using a 1-2 punch of a subway tile with tonal variation and a cool laying pattern, these fireplace hearth tiles are giving warm and cosy without the logs even being lit. Get the look with Tribeca Sage Green.
But wait, there's more
Needless to say, this is just the tip of the iceberg. For more inspiration, take a look at some of our latest projects, build a list of your favourites with our My Selections login, or visit us in the Myaree Ceramics showroom at 91 Norma Rd, Myaree.